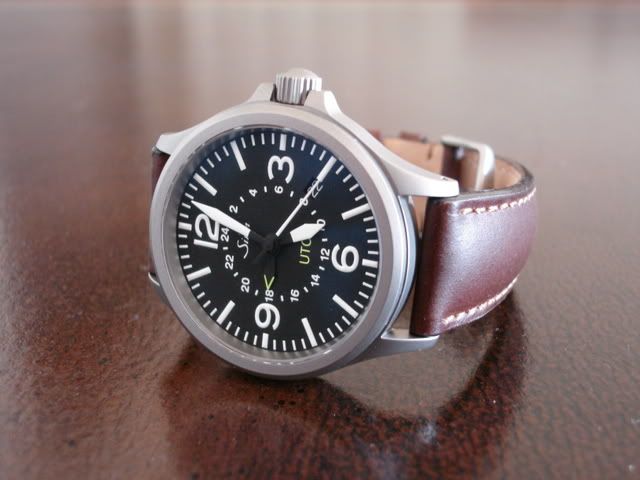 Seeing Bill Calhoun's Fortis watch yesterday at the club, it got me thinking of some of my own watches. My Sinn 856 UTC has been sidelined for years now. I love this pilot's watch but unfortunately it, for some reason, needs some repair. It must have been magnetized or something even though it has magnetic protection. For whatever reason this watch gains way too much. Within a few hours it will be 10 minutes fast. At other times in will stop completely. I don't think its an indicative of Sinn's quality as there are hundreds if not thousands of fans that have never had a problem. I think I just got a bad one. That happens. Problems notwithstanding I still love this watch. I'll be sending it for repairs soon to get it right. Hopefully the cost won't be ridiculous.
Initially I bought this watch as my field beater as it uses tegiment technology which is a hardening process which takes its strength to 12,000 Vickers whereas normal non hardened stainless steel is around 220 Vickers. I prefer leather bands so I bought an extra brown leather pair when I don't feel like wearing the bracelet. According to the guys at
Watchbuys
, Germans prefer buckle straps over clasps straps as they are more sturdy. Personally I prefer clasps as I believe creates less stress on the leather and therefore increases it's life. Bands are easily removed with the provided punch tool.
The 40mm face fits nicely on my wrists.
The inner dial is read with the short yellow dial hand. Inside the Sinn uses the ETA 2893-2 for its movement. The caseback is solid so you can not see it. Man I need to get this stinking watch fixed, I've forgotten how much I liked it.