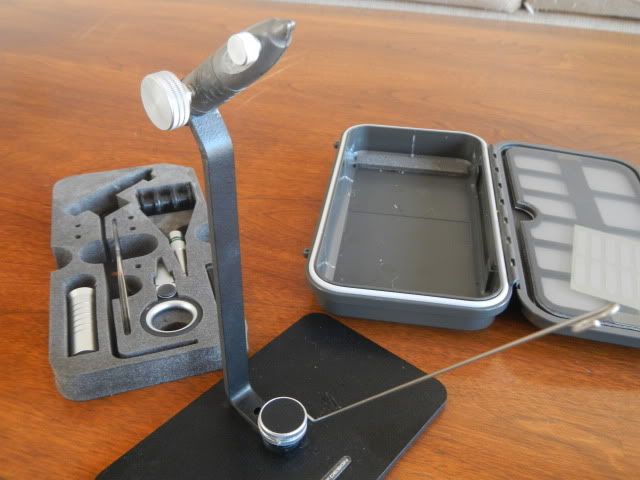 The C&F Marco Polo Fly Tying System is a clever traveling fly tying station that conveniently fits within a large C&F fly box. All the possible tools you will need to tie on-the-go are included in the set. Although the C&F Marco Polo tying system is one of the most unique tying systems on the market, and at a current retail of $650, I'd rather spend my money on a new fly rod or something else.
When I purchased my system about a decade ago in
Japan
, the dollar was strong and conversion rate was favorable.
As a result my C&F was purchased for about $400. In the
US
retail at the time, the system was over $500.
Ingeniously packaged, all the possible tying tools are included and securely fit in their foam slot. Tools include: Vice with pedestal and bobber hanger, 3-in-1 bobbin kit, 3-in-1 dubbing brush, 2-in-1 hair stacker, dubbing comb, hackle pliers, 3-in-1 half hitcher, dubbing twist plus, 2-in-1whip finisher, stainless steel tying scissors, and a magnetic hook pallet with labels, the foam also has holes to transform it to a tool stand.
The vice included is simple and I would not recommend this as a primary tying station. You would be better served using a Dyna King or any other premium vice on the market. I prefer those with a cam lever to lock the jaws on a hook. They seem easier and faster to use. This C&F vice uses two screws to adjust and lock a hook into place. In addition to that there is a magnet that also helps the hook stay in place.
On a 2006 fishing trip to Utah with Richard, we spent about a week driving up to the State hitting as much trout water as we could fish. We camped most of the time but we did spend one night in a motel, recouperating, doing laundry and replenishing our lost flies. On that trip I did used my Marco Polo but I used my Dyna King instead for the vice. It's just more convenient. Since we were car camping and weight and size was not a problem I opted to bring my primary vice.
All in all the sytem is cool and unique and given its hefty price tag, it is unlikely you'll see to many of them in the hands of too many fly fishermen. All the tools included are of top quality and can be bought seperately so what you are really getting from this system is the vice, foam compartments and the watertight case. Is it worth $650? I'm not sure. Buy it if you have more money than you know what to do with, otherwise I'd pass.