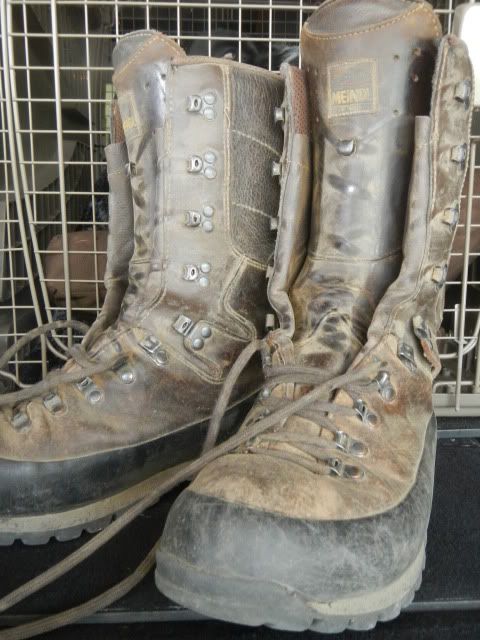 My Meindl Dovre Exteme GTX
These boots are original Meindls made to Meindl's specifications and not the Cabela's labeled Meindls. Who the hell would ever want a Cabela's label on their feet? I absolutely hate Cabela's. From what I have been told Cabela Meindls are made to Cabela's specifications and that is why they can meet certain price points. Whether that is true or not I wouldn't be caught dead with a Cabela's logo anywhere on my body. Cabela's is the Walmart of sporting goods. They destroy small business particularly specialized businesses like fly fishing and hunting/gun stores. Screw them. I never really liked Cabela's but my hatred for them has grown more after reading
this
. Also Cabela's and these other big box sporting goods stores (like Bass Pro and Gander Mountain) selling high end guns and fly fishing is like McDonald's selling
haute
cuisine. Stick to what you know or you'll just embarrass yourself. I recall going into the BPS here in Rancho Cucamonga and entering the high end gun department, what a joke. The salesman had no clue what the guns were that were in the display cases. They even had a
Bertuzzi gullwing
once and it was hilarious to hear the salesman bumble through trying to explain the gun. It was clear he had no clue what was in front of him. Don't get me started when he tried to explain the
Cosmi shotgun
. At least BPS got a clue and for the most part abandoned the high end market and I believe those guns are now sold in one location only and maybe through the Internet only.
Back on topic, these boots are designed as a high mountain hunting boot. As such they are 11 inches tall and made with Nubuck leather. They are comfortable and after more than 3 seasons now I can tell you these boots feel great on the feet. I have yet to get any blisters even after hunting 3, or 4, and even 5 days in a row wearing the same boot. These hunts are not flat prairie hunts either, these are high Sierra Mountain chukar, and mountain quail terrains. These are Gore-Tex lined so hunting in weather is no problem. The soles are Original Meindl Multigriff® profile by Vibram® which have provided me great grip on all the various mountainous terrain of California from rocky boulders to scree slopes to the less strenuous terrain and everything in between.
Unlike my
Meindl Perfekt
, the soles on the Dovre are not stitched but like most modern boots are glued and then reinforced with a high rubber rand. This was always a concern for me, as on most boots, particularly on cheap export boots, this is a weakness as glue eventually weakens and separates from the boot. I've seen it happen. On these German made boots though I've yet to see or read about that happening, although that doesn't mean it won't. Only time will tell. I bought these boots in British Columbia a few years ago at
AJ Brooks.
They owner had told me that as long as you keep them clean and protect them with cream you should have years of service. Obviously from the pictures I haven't been keeping these boots clean as I should.
I keep my Dovres in a Barbour boot bag which I had to buy from a store in the UK. For whatever reason boot bags do not sell in the US and so no one makes them or even imports them here. I do not know why that is, I absolutely love boot bags since I remove my boots after the hunt. I find it hard to drive in big boots.